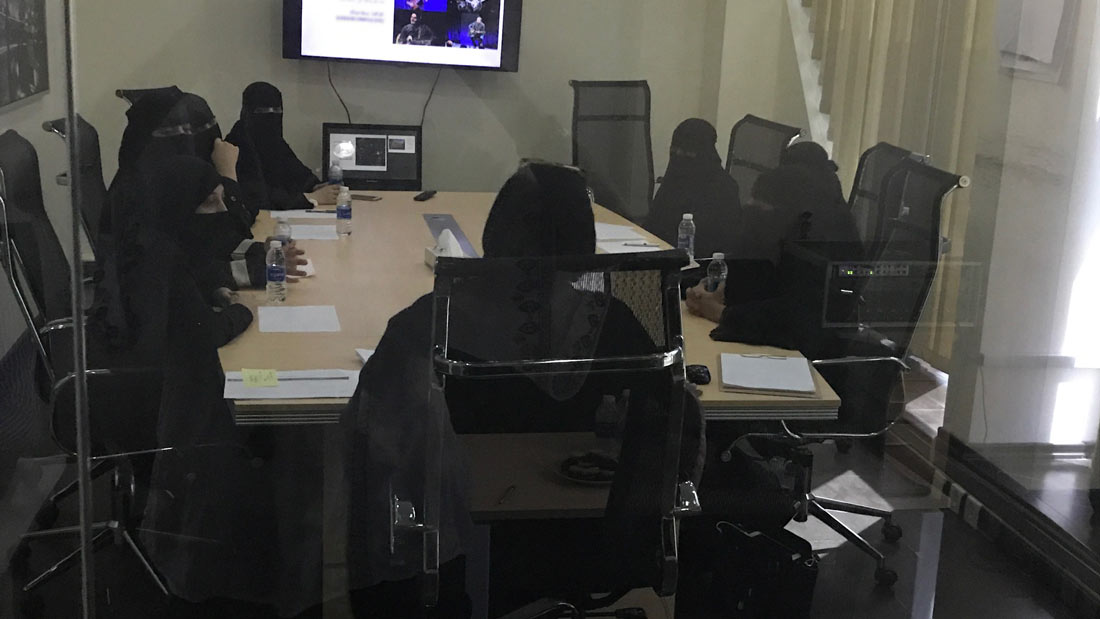 30 Nov

Qualitative Adventures in the Kingdom of Saudi Arabia

And lessons for international qualitative research.

It's easy to romanticize the idea of traveling internationally for global qualitative studies, especially when those experiences seem so out of reach in our current locked down pandemic world.

Conducting research in other cultures and time zones can be an enlightening and fulfilling experience for us ever-curious QRCs.

But it can also be challenging and even humbling trying to navigate the unfamiliar in the quest for human truths, and for me, nowhere has that been more true than in the Kingdom of Saudi Arabia. Here I recall some of my (mis)adventures in KSA and lessons learned that can be applied to conducting international research anywhere, whether in-person or virtually.

First, a caveat I am far from an expert on Saudi Arabia. My experience has been limited to multiple trips over the last several years as a qualitative consultant for global CPG clients. For a deeper grounding, I suggest looking to Saudi expert and anthropologist Madawi Al-Rasheed who writes extensively on the Kingdom and its culture. Here she recommends what she considers to be the five best books on Saudi Arabia.
Tips for International Research
(In Saudi Arabia and elsewhere!)
Be prepared
No matter where you are conducting research, it's essential to understand cultural basics and how your client's category and brand fits into everyday life.
For my first trip to KSA in 2017, I was, of course, aware that it was a very conservative and highly segregated Muslim society. While things are beginning to change, Saudi women are still legally classified as minors under a male-dominated guardianship system.
I quickly learned that many of these restrictions also applied to female visitors. I would not be able to explore the area unaccompanied or even eat in the public area of a restaurant (or it turns out to use the pool at the hotel!) And I would need to dress accordingly. I was conveniently able to purchase the required abaya* and hijab (long black cloak and scarf covering the body from head to toe) right in my own neighborhood in Chicago at a shop catering to Yemeni immigrants.
On that first trip, I felt relieved that I planned ahead when my British Airlines flight attendant warned me to put it on before disembarking.She told me she once had her ankles switched in a market by the mutawa (Saudi's dreaded religious police, aka the Committee for the Promotion of Virtue and the Prevention of Vice) for having too short an abaya. Fortunately, more recent rulings have curbed the unchecked powers of the mutawa but they are still in existence.
*Tip: a bargain-basement $39.99 polyester abaya does not perform well in Riyadh's 90+ degree heat.
Have an ally on the ground (and your smartphone!)
Sometimes it's the simple things that keep travel and fieldwork running smoothly. Don't underestimate the little details like local transportation and customs regarding punctuality. If you don't speak the language or understand the alphabet, ask your local partner to find a trusted driver for the duration of your trip. Also, as I have learned, be sure to have your mobile phone fully charged with a data plan connected to the local network.
On one of my trips to KSA, I asked the hotel to arrange a ride for me to the facility. Unbeknownst to me, the driver misread the address, and he dropped me at the wrong building. After 20 minutes of wandering around the vast half-empty building searching for the facility's office, I realized something was not right.
I finally found an open Indian travel agency with friendly staff who informed me that the address I needed was on the other side of town– 'just have your driver take you.' Standing alone outside in the heat of the day in my black polyester gown, with my driver long gone and no taxis in sight, I felt a rise of panic… I was going to be very late to the agency briefing.
Luckily with my trusty iPhone and a combination of Uber, Google Maps, and Google Translate, I arrived at the facility only slightly disheveled, 20 minutes late. Not to worry, as the meeting had not started, as Saudi's have a fairly flexible concept of time.
I learned this again when our first focus group of the day started over an hour late, much to the dismay of the US clients waiting on FocusVision. But there was a good excuse: all of our participants were involved in a car accident! How did that happen? Because women were not permitted to drive, the facility provided transportation and their driver had a fender bender in heavy traffic with a full car of participants.
Know things are continually changing
Stay updated with the latest information on the market before you begin a study. Rules, regulations, and exchange rates are always in fluctuation which can impact consumer behavior. In Saudi Arabia, massive reforms have recently been implemented under crown prince, Mohammed bin Salman's strategic plan, Vision 2030 to help wean the economy off oil dependence.
Officially, the new rules loosen restrictions and grant women more freedoms, including the right to drive. Now more women are permitted to work outside the home, and some are beginning to find professional careers. However, most work in segregated 'women-only' workspaces and often are still not given meaningful authority. The 2020 Global Gender Gap Index ranks KSA 146th out of 153 countries, and women on average are paid 56% less than men.
Understand the research industry in the market
Do some background research to discover how qual research is conducted and who the leaders are in the field. Is there a network of focus group facilities and professional recruiters? Are consumers familiar with qualitative methods, and how are they most comfortable participating in a study? Being informed will help you prepare your clients and plan for the most appropriate approach customized for the market.
There is a network of established focus group facilities and recruiters in the largest Saudi markets (Jeddah and Riyadh). Consumers are willing to participate in research both in person and virtually. However, many studies are run out of Dubai by international firms specializing in the Middle East versus directly by local firms with specific Saudi expertise.
My experience was that it was challenging to find skilled Saudi moderators, particularly with marketing or strategy backgrounds and English fluency. We found many were solid 'interviewers' who could follow a discussion guide script but seemed to struggle to probe successfully. Adding to the complexity, groups had to be separated by gender with the same-sex moderator.
When hiring a local firm in Saudi or elsewhere, be sure to ask for specifics about the moderator(s), check their references and, if possible, have a phone conversation with your moderator before committing.
Cultural context is everything
Listen to the local experts.  No matter what market you are in, it is critical to have a native interpretation of what is said (and not said) and what it means in the society's context. This goes beyond having an excellent translator (which is also a must as I learned the hard way with a 'Lost in Translation' –like experience in Jeddah that made the response to a positioning statement a complete mystery.)
Before fieldwork, work with the local team to ground yourself in the context of the category.  Understand how it fits into the culture, how it is purchased and used. Ask for examples of advertising, photos/videos of the product at retail, and in use.
Review discussion guides and stimuli early so that the local team can make adaptations before fieldwork.  For example, advertising depicting a cocktail party would won't fly in KSA where alcohol is banned and mixed gender socializing is extremely rare.
After fieldwork, make sure you schedule time with the local moderator and team to go through the findings. Share your hypothesis and your client's goals for the brand locally, and understand how they differ from what the local team took away. Ask for specific examples if cultural issues are impacting how participants responded to ideas.